Welcome to our new series of bi-weekly presentations of the perfumes houses from around the world.  The first few weeks the focus will on the houses from Europe such as Coty, Guerlain, Galimard, Chanel, Molinard and Houbigant.
Founded in 1828, Guerlain is one of France's and also Europe's oldest perfume houses. A doctor and chemist, Pierre-François Pascal Guerlain opened his perfume store on 42, rue de Rivoli in Paris and enjoyed immediate success thanks to his revolutionary work.
With the help of his two sons Aimé and Gabriel, Pierre-François was able to compose and manufacture many innovative products and custom fragrances. Receiving accolades and patronage from members of high society allowed Guerlain to enjoy increasing numbers of clients, leading to the opening of the flagship store at 15, rue de la Paix in 1840.
In 1853 Guerlain created a fragrance for Empress Eugénie, Napoleon's wife, for her wedding. The fragrance was named Eau de Cologne Imperiale and Guerlain was given the prestigious title of being His Majesty's Official Perfumer in France. The title gave him an international name and he created perfumes for Queen Victoria of the United Kingdom and Queen Isabella II of Spain among other royalty.
Pierre-François Pascal Guerlain passed away in 1864 and his two sons Aime and Gabriel Guerlain continued the fragrance business with Aime becoming the master perfumer.  The position of master perfumer was handed down through the Guerlain family and held lastly by Guerlain's great grandson Jean-Paul Guerlain, who held this position until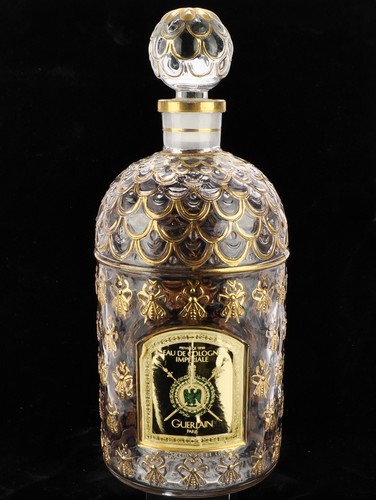 2002.
Since its foundation in 1828, Guerlain has created over 300 signature fragrances.  Some of the most famous include:
The classic cologne Eau de Cologne Imperiale, created in 1853, it is composed of rich lime and lime-flower notes. Truly a fragrance fit for a Queen…or Empress.
Jicky, created in 1889, is heralded as the first "modern" fragrance, to incorporate synthetic odorants (vanillin and coumarin).  The fragrance is known for its main notes of lavender and vanilla. Over 120 years later, Jicky is still being sold, making it the oldest fragrance in continuou
s production.
Shalimar, which means "temple of love" in Sanskrit was created in 1925.  It was the first oriental fragrance for women.  It incorporates large amounts of vanillin and shades of other notes such as bergamot, lemon, mandarin, rose, jasmine, orris, vetiver, heliotrope, civet,
opoponax, vanilla, Peru balsam, benzoin, tonka bean, and sandalwood.
Samsara, created in 1989, is an oriental fragrance featuring notes of jasmine and sandalwood with shades of ylang-ylang and tonka.
All of the Guerlain scents evoke a sense of luxury and tranquility. Imbued with a world-renowned ethos of elegance and sophistication, these luxurious fragrances echo Guerlain's long history of innovation and excellence.
 Glamorous, Prestigious, Peerless… Guerlain.